Shopping Cart
Your Cart is Empty
There was an error with PayPal
Click here to try again
Thank you for your business!
You should be receiving an order confirmation from Paypal shortly.
Exit Shopping Cart
Parties to an agreement to limit crude oil production starting in January were 86 percent in line with commitments, a joint OPEC, non-OPEC group said.Members of the Organization of Petroleum Exporting Countries agreed in November to sideline about what was expected in global demand so that total member state production would be at 32.5 million barrels per day in January "in order to accelerate the ongoing drawdown of the stock overhang and bring the oil market rebalancing forward." Non-member states, led by Russia, agreed to limit their production in solidarity.OPEC said a joint committee monitoring the terms of the agreement held its inaugural meeting in Vienna to verify compliance."According to the joint technical committee report for January 2017, the OPEC and non-OPEC producers achieved a conformity level of 86 percent," OPEC said in a statement. "The [monitoring committee] noted that there is still room for improvement to reach 100 percent conformity, and, in this regard, urged all parties to press on towards full and timely conformity."Speaking at an energy summit in London earlier this week, OPEC Secretary-General Mohammad Barkindo said there was strong coordination around the agreement, comments that followed reports suggesting stronger action in the second half of the year.The agreement holds for six months and OPEC said it would consider an extension as appropriate.Libya and Nigeria are exempt from the agreement as they depend on revenue from their energy sectors to help ensure national stability. Iran, meanwhile, is the only member state allowed to increase its production as it looks to regain a market share lost to nuclear-related sanctions.Petromatrix, a sector consultant group based in Switzerland, reported the OPEC cuts are not enough to eat into the surplus of crude oil already on the market. Data this week from the United States, where shale oil is recovering along with crude oil prices, show total U.S. oil stockpiles rose last week for the seventh week in a row.The latest survey from S&P Global Platts found compliance from the 10 OPEC members obligated to cut production at 91 percent. Platts noted coordination from non-OPEC members, but did not include their contribution in its compliance figures.Crude oil prices were slightly lower in early Friday trading. Credit Dan Gruber UPI. 24th Feb 2017.
There are many indexes and securities that have been stuck in ranges for the past several weeks, in an unusually low volatility period during a time when worldly current events have been anything but stable. As far as the markets are concerned, we are waiting for some breakouts from those ranges to give us a better indication of which direction markets may take in the months ahead. The following are some of the more important items and levels we are monitoring: The Dow Industrials are trading in a 19,700–20,100 range for eight weeks, and a clear breakout could be good for another 1000points in the same direction as a breakout. Crude Oil has been stuck mostly in a $50–$55 range for the past 10 weeks. Breaking through either level would give a technical target for a move of at least another $5 in the direction of a breakout. Interest Rates have also been in a range for 10 weeks, with the 10-year Treasury note trading between 2.3% and 2.6% for the period, and once again with a projection of a 0.3%+ move expected in the direction of whichever way it breaks out.

A breakout of the ranges could be meaningful, and considering how they have all been in these ranges for similar time periods, the breakouts may also happen at about the same time. But for now, they continue to creep along within their recent boundaries,
waiting for a catalyst for change.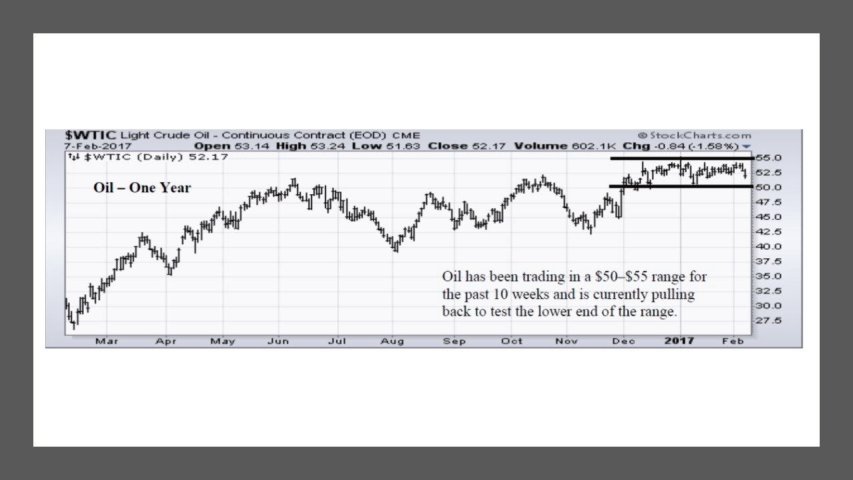 On e exception is Propylene, which broke the 40 cpp level in US for January, Feb we expect another increase of 5 cpp, March flat to Feb, then Q2 drifting downwards to hit 40 cpp in June July. European propylene is expected to once again increase in March by 25-30 Euro, and drift along with lower Q2 levels. In Asia a heavy turnaround season means propylene remains $950 into March and April when Asian crackers are off line.
/